Oh you thought you were never going to see another book review by me… right? Nope! You know that I love my book reviews. I figured I could indulge in my love of reviews by reviewing self-help books. I know, genius idea.
So here we are, ready for the first book review of 2021! As usual, this might have some spoilers, so if you don't want to hear about those, skip down to the "Would I recommend this book?" Here's all the details of this book:
Book Title: Wise as Fu*k: Simple Truths to Guide You Through the Sh*tstorms of Life
Author: Gary John Bishop
Main Theme: Self-Help
Thesis: In Unfu*k Yourself, Gary John Bishop taught millions of readers how to silence the negative, self-sabotaging voice in their head to thrive. In Wise As Fu*k he expands on his ideas, redefining what it means to be wise and showing how to tackle problems and improve our lives and those of others.
When the shit storms of life hit us, many of us don't know what to do—whether it's losing a job, suffering a broken heart, or just feeling a lack of purpose. We need wisdom to help us navigate forward. While the internet is full of seemingly good advice, it isn't helping us actually change our lives. Wise As Fu*k breaks through the bullshit, providing insight to inspire us in the four areas we need it most: love, loss, fear, and success.
What Drew Me In: So last year during quarantine, I borrowed an e-audiobook by my library called "Unfu*k Yourself" by Gary John Bishop. All I knew was that it was a self-help book, the guy clearly had a "get your sh*t together" kind of attitude, and I was bored and wanted something new to read. Honestly, I'm so glad I found it. It was hilarious to hear this Scottish guy giving you that tough love, and sometimes we all need that kick in the booty to get your stuff together. So for this book, I happened to be at work and found this book on the "New Shelf", so he was coming home with me.
My Thoughts: I really enjoyed reading this book, but I think I enjoyed "Unfu*k Yourself" a little bit more. But there is still some really valuable lessons in this book. Each section goes through a typical lesson like love, loss, fear, and success and how these concepts can really affect your life. Even if you are going through the toughest time ever. My favorite section was probably fear, since there has been multiple times in my life that I have felt like I'm just a failure overall. He explains that sometimes fear is an okay response, like if you are swimming in the ocean and you think you see a shark.
Oh yeah, you would bet that I would be terrified.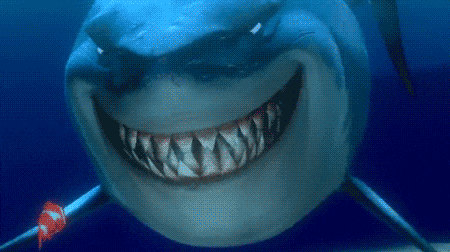 But a lot of us will use the term "fear" because we don't want to face a problem. It's an easy way for us to put off that task and not feel guilt for it. A perfect example for me: I'm so fearful to ever go to college. I would love to go, but I'm not the best test-taker and it can really mess me up. So here I am, I'm 25-years-old and I've never done a college class. I use my fear of tests to convince myself to never apply for school. Sucks for me, right?
I guess it goes back to the old saying, "Don't let fear take control of you." It's much easier said than done, but man, is life more enjoyable when we aren't living in fear all the time.
Would I recommend this book?: Overall, I really enjoyed this book and I think most of my readers would too! It's quick to read, funny, and overall a great companion to keep around when you need some wise words. Do yourself a favor and at least borrow it for free from your local library! 🙂